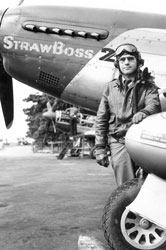 StrawBoss 2 was flown by 328 Fighter Squadron/352nd FG, Col. James D Mayden. Born in 1912, Mayden graduated from Kansas State College in 1935. He did his primary and advanced training in Randolph/Kelly Texas and went on to fly P-26's, P-36's, P-39's along with P-40's stateside before flying P-51's overseas.
His first kill occured on November 2nd 1944, and by the end of the war, he had 2 air victories to go with 4 ground kills. Both confirmed air kills were ME-109's. Mayden's wartime decorations included an Air Medal, Distinguished Flying Cross, and the Croix De Guerre. He also commanded the 352nd FG from July 1944 to September 1945.

The Colonel's first P-51, a B model was named "StrawBoss", a nickname said to be given to him by his dad. After a gear-up landing accident, StrawBoss was replaced with a fresh P-51D. While the left side of the new mount wore "StrawBoss 2", the right side was painted "Little Sandra", named after crew chief S/Sgt Hubert Robling's daugther.
Mayden and StrawBoss were based at numerous airfields throughout World War 2, including Bodney, England, and right up near the front lines at Y-29 Asch, Belgium.

California Warbirds P-51D is painted as "StrawBoss 2" was in early 1945 to honor Mayden and his aircraft.
To view more photos of StrawBoss both past and present, visit our
photo gallery.
A kind thanks goes out to Sam Sox and the
352nd FG Association
for providing loads of info an images found throughout this site.
Model: P-51D-10NA
Serial #: 44-14111
Code: PE-X
Fighter Group: 352nd
Fighter Squadron: 328th